Bathroom Safety in Clinton, IL 61727
Make Your Clinton Bathroom Safer with a Walk in Tub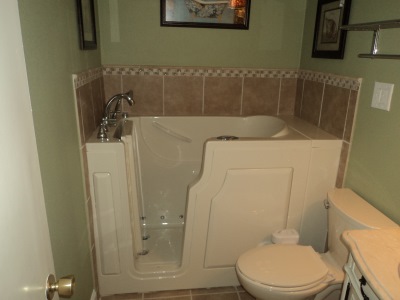 Prevent Falls in Your Clinton Bathroom- Bathroom falls in Clinton, Illinois are common, and the frequency is increasing each year. Falling threatens an individual's health and independent living. Falls can significantly impair a person's ability to remain self-sufficient in their own home. The Center for Disease Control reports that 1 in every 3 adults over the age of 65 falls each year. Over 25% of these falls result in moderate to severe injuries that include bone fractures, brain injuries and
internal injuries. Most falls happen within the home.
Our walk in tubs help people transfer safely into and out of bathtubs. In addition, we offer an option of outward swinging doors for folks who use wheelchairs for mobility.
How Independent Home Products, LLC Helps To Keep People Safer With Walk in Bathtub Installations in Clinton
All of the staff at Independent Home Products, LLC are caring experts in bathroom safety. The safety of our customers is our number one priority as we design and manufacture walk in bath tubs for Clinton, IL residents. Each walk in tub is custom molded in our own facility to fit your needs. Wider models are available for full figured clients.
Our Clinton walk-in tubs offer the following safety features:
Low threshold for easy entry and exit
Wheelchair accessibility
Grab bars
Comfortable seating
Power speed drain – drains in 1-2 minutes!
Temperature controlled – allows you to set a maximum temperature
Other Ways to Prevent Falls in Your Clinton Bathroom
Remove objects that can be tripped over
Keep the bathroom floor dry
Install grab bars in the shower, tub and next to the toilet
Use non slip strips on shower floors and bathtub floors
Improve your restroom lighting
Keep items in cabinets and closets within easy reach
Use a rubber backed bath mat outside of the shower or tub
Cap Thermostat to keep water temperatures below 115 Degrees
WHAT CUSTOMERS ARE SAYING:
5★★★★★ - "Independent Home had more of the things I needed and wanted. As far as reviews go, they're more of everything than most of the other ones. The sales reps were very nice. I had a couple and they were good salesmen. However, I was disappointed when they were gone and their part was over. Then there came another part that we've no longer negotiated with and had the people reinstalled it. Furthermore, on the installation, I was under the impression that I had to be satisfied and they were under the impression that they were doing what they were paid just to do and that was it. It was a pleasant experience but just like everything, there's just some things that can't work out with one end as it does with the other end. Nevertheless, I'm happy and would recommend them."
H. of IL
2016-08-24
---
5★★★★★ - "The speed drain is a great feature for my walk in bathtub. It only takes about 80 seconds to entirely drain."
Robert in Chicago, IL
2015-04-27
---
5★★★★★ - "I couldn't believe that my walk in tub was instatlled in less than a day! The workers were very professional and curteous to clean up eveyrthing and test the walk in tub before they left."
Jack & Sara
2015-04-27
---
5★★★★★ - "The fella that visited me and showed me the walk-in tub options was very paitent with me. They even added a custom hip jet sice I broke my hip a few years back."
Julia in Chicago, IL
2015-04-27
---
5★★★★★ - "The installation of my walk in tub only took 1 day. I love it and the water jets on my legs are so relaxing."
Frances
2015-04-24
---
Call for FREE Bathroom Safety Quote
---